XÉMOSE - Cleansing Soothing Oil
Cleansing Oil For Shower And Bath
(Skincare for very dry skin )
Ideal for

Face, Body

Size

200ml Tube
Pump Bottle 400ml
Pump Bottle 1L
Overall Rating
This cleansing oil protects against dry skin and soothes itching sensations. Its fine and extra-gentle lather brings instant and long-lasting comfort to dry to very dry skin.
Nourishes
Thanks to its high concentration in glycerin, Xémose oil leaves a non-greasy protective film that protects the skin from external aggressions.
Soothes
Enriched with Shea butter, it soothes and relieves sensations of itching, tightness and discomfort.
Results
Clinical study under dermatological control on 30 volunteers with xeroses. Clinical scores.
Active ingredients
Soap-free
Fragrance-free
Hypoallergenic
Advice
Lather on wet skin, rinse and gently dry.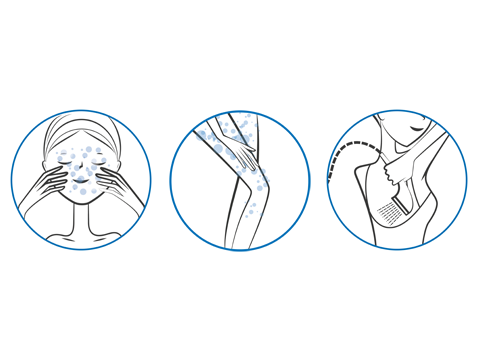 INCI
AQUA (WATER, EAU) – GLYCERIN - HYDROGENATED STARCH HYDROLYSATE - SODIUM COCOAMPHOACETATE - PEG-7 GLYCERYL COCOATE - SODIUM COCOYL GLUTAMATE - SODIUM LAURETH SULFATE - SODIUM LAURETH-8 SULFATE - CETEARETH-60 MYRISTYL GLYCOL - POLYSORBATE 20 - COCO-GLUCOSIDE - GLYCERYL OLEATE - SODIUM CHLORIDE - CITRIC ACID - MAGNESIUM LAURETH SULFATE - SODIUM OLETH SULFATE - POLYQUATERNIUM-10 - MAGNESIUM LAURETH-8 SULFATE - PEG-75 SHEA BUTTER GLYCERIDES - MAGNESIUM OLETH SULFATE - SODIUM ACETATE - BRASSICA CAMPESTRIS (RAPESEED) STEROLS - RASPBERRY SEED OIL/PALM OIL AMINOPROPANEDIOL ESTERS.
Reviews submitted
:
2
My baby girl had skin problems so my dermatologist recommended her the Uriage products for sensitive and hypoallergenic skin. I'm more than happy with this products and I Highly recommend Uriage Xémose Soothing Cleansing Oil.
The shower and bath cleaning oil has been prescribed by my specialist.
It is a delicate oil, lathers well, and thus far I am very pleased with the results. I have no hesitation in recommending the product. Regards
Write a review