The Uriage Thermal Water, a unique Water
Born in the heart of the French Alps, the Uriage Thermal Water has flowed for 75 years through the rocks. As the seasons pass by, it gets enriched with minerals and trace elements.
11
grams per liter of dry
An
active Water

with a unique mineral composition of 11g/L
A
protective Water

soothing and moisturing, rich in minerals, reinforcing the barrier of the skin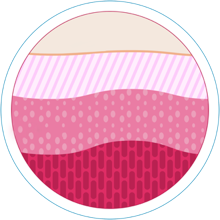 A
B
B
C
A
Reduces virulence and adherence of microbes
(1)
B
Restores physical barrier
(2)
C
Modulates the immune barrier
(3)
+ 32%
of hydration in just 1 hour, lasting for 8 hours
An
isotonic Water

that acts, like a physiological serum, in osmosis with the skin's cells.

Low mineralized Thermal Water

Minerals : 0,2 to 0,7g/L

Hypotonic

Increases the size of cells

Uriage Thermal Water

Minerals : 11g/L

Isotonic

Does not modify the size or volume of cells

Sea water

Minerals : 35g/L

Hypertonic

Reduces the size of cells
Uriage Thermal Water, the protective force of the French Alps in a spray bottle
Packaged directly at the source to preserve its multiple benefits, the Uriage Thermal Water Spray is essential to every beauty routine, every day, for everyone.
100% pure and natural
A treatment Water naturally moisturizing, protective and soothing
For all types of skin, for the whole family

Dermatology
Irritated skin
Dermatosis
Eczema, redness
Eyelid dermatosis
Sun erythema
Post dermo-cosmetic procedure
Etc.
Everyday
Hydration
Fixes make-up
After-shave
Radiance
After sport
After epilation
Etc.
*Assessment of the Uriage Thermal Water hydration by corneometry, over 10 subjects. CIDC.
(1) Mijouin L, Hillion L, Misery L, Lefeuvre L, Feuilloley MG. Effects of a Skin Neuropeptide (Substance P) on Cutaneous Microflora. PLOSONE 2013;8(11):e78773.
(2) Joly F. et al. «Beneficial Effect of a Thermal Spring Water on the Skin Barrier Recovery after Injury». Journal of Cosmetics, Dermatological Sciences and Applications, 2012, 2, 273-276.
(3) Percoco G, et al. Human skin and the cutaneous microbiome. IFSCC (Poster) 2014.